Ice your way
Dual Auto Ice Maker
Make sure you are always prepared for any occasion with two different types of ice. The Dual Auto Ice Maker makes both Cubed Ice and Ice Bites™, which chill drinks much faster. It can make 5.6lbs of ice a day and store up to 12.6lbs*. And, as it's in the freezer, it frees-up space in the fridge.
* Produces 3.4lbs(1.5kg)/day of Cubed Ice and 2.2lbs(1.0kg)/day of Ice Bites™. Stores 6.2lbs(2.8kg) of Cubed Ice and 6.4lbs(2.9kg) of Ice Bites™.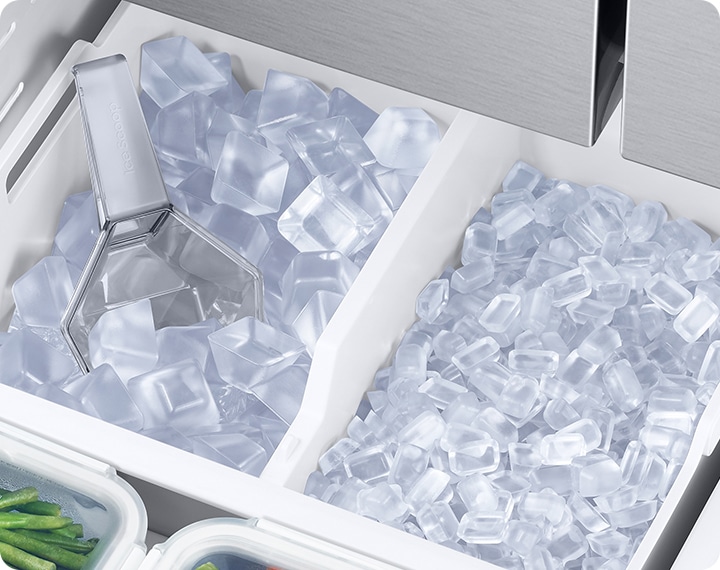 Simply bigger inside, same size outside
Large Capacity (24.5 cu. ft.) with SpaceMax™ Technology
Store more food with a spacious 24.5 cu. ft. interior. Unique SpaceMax™ technology uses special high-urethane insulation that enables the walls to be thin without compromising energy efficiency.
Clean Lines, Stylish Look
Modern Design
Give your home a stylishly simple and sleek appearance. Its minimalist design is both neat and modern, but won't look out of place with existing appliances and cabinets. It has beautiful flat doors and recessed handles, which don't protrude and get in the way.
Up to 15%* Energy Saving
SmartThings AI Energy Mode
Reduce your energy use by up to 15%* with AI Energy mode**. If your estimated electricity bill exceeds your preset target, it gives you an option to save energy***. It optimizes the compressor speed and defrost cycle, based on your usage pattern and surroundings.
* Available on specific models from May 2023 through a Wi-Fi update. Internal test results are based on a comparison of the factory setting temperature when using AI Energy mode and without using AI Energy mode. Results may vary depending on the usage conditions and patterns.** Available on Android and iOS devices. A Wi-Fi connection and a Samsung Account are required.*** SmartThings will display a notification before activating the saving algorithm in both 'Maximum mode' and 'Custom mode.'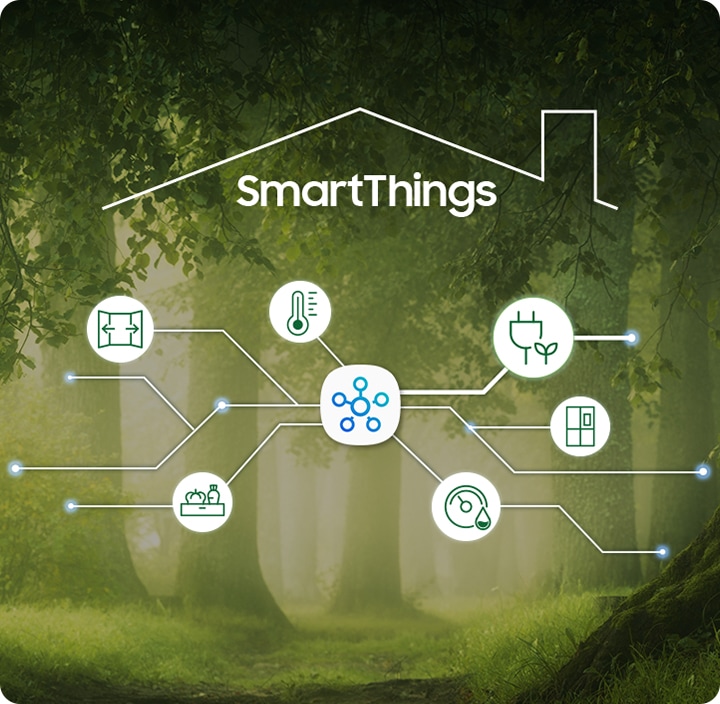 Do the SmartThings at Home
SmartThings Cooking
Smart cooking, Tasty food
Manage, prepare and buy food more effectively. SmartThings Cooking* lets you create a list of the food in your refrigerator and manage expiry dates, so you can check what you have anytime, anywhere. It also recommends personalized recipes based on your preferences and existing ingredients.
* Available on Android and iOS devices. A Wi-Fi connection and a Samsung account are required.**The screen intended to help a customer understand and may be different from the actual screen.
Wi-Fi Embedded
Monitor and manage the refrigerator's performance from your smartphone using its embedded Wi-Fi and the SmartThings App*. You can control the Rapid Cooling modes, change the temperature and get alerts if the door is left open. You can also monitor its energy consumption and diagnose any issues.
* Available on Android and iOS devices. A Wi-Fi connection and a Samsung account are required.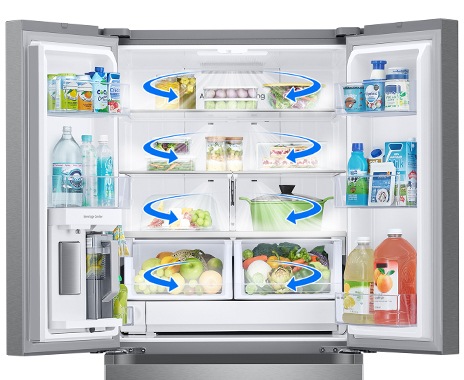 All-Around Cooling
Make sure that all of your food is properly cooled. All-Around Cooling cools each compartment evenly from corner to corner. It continually checks the temperature and circulates cool air through strategically placed vents. So food is kept at the optimum temperature and cools evenly inside.*
*Based on internal testing result.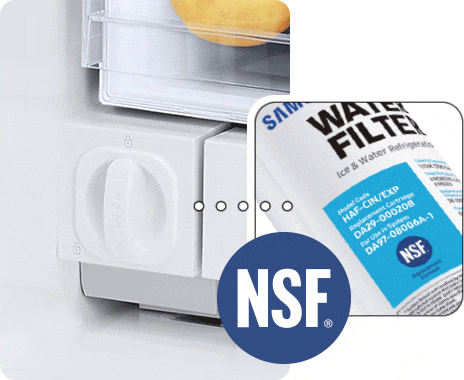 Internal Water Filter
The Internal Water Filter is aligned with the refrigerator's minimalist built-in look, with nothing showing on the outside.
ADA Compliant Display
Use the refrigerator with ease and confidence if you have restricted movement. Its Internal Display is compliant with the standards of the Americans with Disabilities Act (ADA). So the controls are all within arm's reach and can be used with one hand.
ENERGY STAR® Certified
ENERGY STAR® certified, so you can save money by using less energy without sacrificing performance or functionality.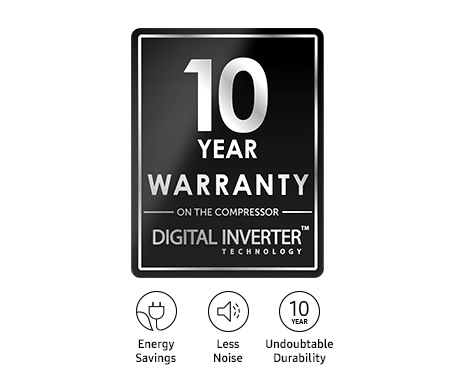 Digital Inverter Technology
Enjoy great energy efficiency, little noise and a long-lasting performance. The Digital Inverter Compressor automatically adjusts its speed in response to cooling demand. So it is quiet, uses power efficiently and is certified to work for 21 years*, with a 10 year warranty** on the compressor.
* Awarded a 21 year durability certification by the Association for Electrical, Electronic & Information Technologies in Germany (Verband Deutscher Elektrotechniker – VDE). Actual lifespan may vary depending on the usage circumstances.** 10 year warranty is limited to the compressor only.